Specifications
Intel Pentium 4, 3.0GHz (15 x 200) dualcore
MSI PT8 Neo-V (5 PCI, 1 AGP, 2 DDR DIMM, Audio, LAN) VIA Apollo P4X533
1024 MB (DDR SDRAM)
ATI Radeon HD 2400 Series (256 MB)
MAXTOR S TM3160211AS (160 GB, 7200 RPM, SATA-II)
DVD-RW Drive
FireWire-1934 Connections
Description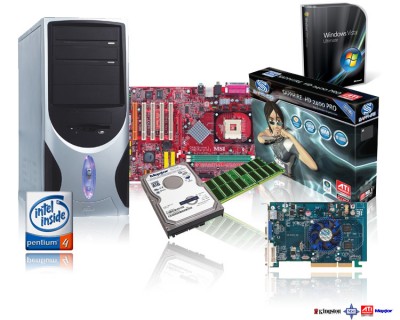 A newly built PC with a fast Intel processor and a robust motherboard from MSI gives you all the performance you need for surfing the web, playing less intense games or watching HD-videos on large screens.
The ATI GPU-card is one of the more modern and faster AGP cards and can handle high resolutions and intense action. FireWire and USB2.0 ports are added for your convenience.
The Operating System installed is an original Windows Vista Ultimate with all updates and drivers pre-installed!
I published this computer on a buy-and-sell-site in Sweden and set the price to about €234, hoping to attract people looking for a cheap alternative to expensive powerhouses – which still can run most games and act as a great media-computer.
And after a few weeks I finally did manage to get it sold – for €234, a very good price if you ask me!
What do you think? Opinions? Suggestions?