Real-time analytics. Just to hear that word got me thinking a lot. What if I could, in real-time, track all my visitors and see what pages they went to and where they ended up. What paths they took to reach certain areas, what links they clicked, how long they read my articles. What if there was something that could do this for me in such an easy, fast and manageable way. This "something" was Woopra.
The first thing you see is a list of the sites you've added – in this case the only one is my blog, archive.douglasstridsberg.com. Next to the site is a small box showing pageviews and visits in a neat little graph. After clicking on my site, I am taken to a sort of dashboard where I can watch all the latest statistics rolling in. I see a map, some graphs and a side-bar menu along with a lot of little information about referrers, keywords, searches and other things. Everything is neatly arranged in neat colors and in an overall very friendly user-interface.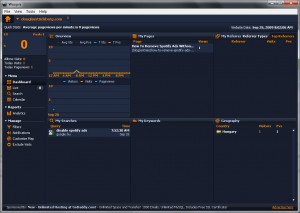 I am pleased with Woopra. As the screenshot shows, I've only just begun using it – and it will perhaps take a while before it truly shows its beauty. Apparent they are closing their beta sign-ups – so you'll have to wait before getting one!